September 15
,
8:00 am
–
September 17
,
5:00 pm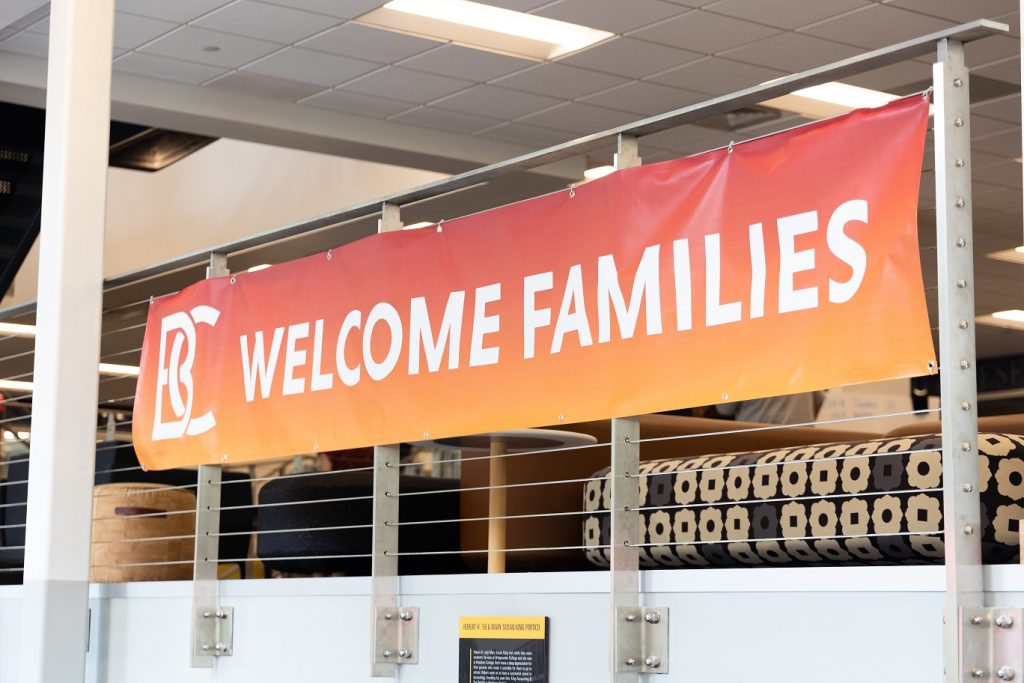 Bridgewater College parents and families, join us for Family Weekend!
Saturday, September 16
10 a.m. – 2 p.m. Brunch
KCC Main Dining Hall
Enjoy brunch in our main dining hall. The cost is $12 at the door for guests. No charge for BC students with meal plans.
9 a.m.– 1 p.m. Family Weekend Information Tent
Forrer Learning Commons
Stop by the tent in front of the Forrer Learning Commons to get the schedule for the weekend, campus map and fun BC spirit items.
Legacy families, please check in at the tent to receive a special gift courtesy of Alumni Relations.
You can sign up for the cornhole tournament between 9 and 10 a.m.
10 a.m. Family Weekend Cornhole Tournament
Campus Mall
Bring a teammate or come join another team for the chance to win a coveted Intramural t-shirt. Sign up at the Family Weekend Information Tent between 9 and 10 a.m. Walk-ins are accepted until 10:15 a.m.
11 a.m. – Noon Family Weekend Reception
Forrer Learning Commons
Meet the faculty and staff who work to support your students in the classroom and across campus. Complimentary food provided.
11 a.m. Volleyball vs. Shenandoah University
Nininger Gym, free admission
Noon-12:50 p.m. Family Weekend Spotlight Classes
"Robins to Raptors, Observing Birds of Our Backyards"
Dr. Robyn Puffenbarger, McKinney 131
We will look at some of the species from the Bridgewater College skin collection (the preserved remains of once-living birds) to look at some of the species in our home ecosystems. From woodpeckers to owls and songbirds to raptors, we will look at some of the beautiful bird species that inhabit Virginia. We will cover fun facts and trivia, along with Q&A-this will be informal and cover the questions you have about birds and birding, as well as how to attract more birds to your backyard.

"The Current State of the Family in America"
Prof. Skip Burzumato, Forrer Learning Commons 217
Much is reported in the news about the current state of dating, courtship, marriage and childbearing in America. Some of these reports are optimistic, and others are full of dire warnings. In our time together, we will review the current research on the state of the family in America, as well as some predictions about the future family lives of our current generation of "twenty-somethings."

"Understanding the Thanksgiving Table Arguments: How Our Attitudes Shape the Way We View Important Issues"
Prof. Jen Babcock, Memorial 13
Ever had a conversation with family or friends about something important and then been shocked by their position on that issue? Or have you ever been surprised by how strongly a friend feels about an issue that you think isn't that important? In this fun interactive session, we'll learn a little about the theory that explains when persuasive messages are most likely to succeed, and take a survey to explore our own attitudes on certain issues. Hopefully, you'll leave with some insight on navigating those tricky Thanksgiving dinner discussions!
Noon to end of halftime – Family Weekend Tailgate
Mapp Field
Your football game ticket also allows you to enter the Mapp Field tailgating area. Stop by our tailgate to meet other families and learn about how to be a Family Ambassador. Complimentary food provided. Legacy families (grandparents included!) are also invited to join the Family Weekend Tailgate.
1-3 p.m. KIDZONE-ENDZONE-FUNZONE
Mapp Field
Free fun and snacks for children 13 and under. Kids can enjoy crafts, colors, bracelet making, cornhole and more. Children must be supervised by an adult family member. Your football game ticket provides admission to the area.
2 p.m. Football vs. North Carolina Wesleyan University
Jopson Field
Come cheer on our BC Eagles! Tickets must be purchased online. Adults are $10, $8 for seniors (62+) and $6 for student admission (children 6-18 and students with IDs from other colleges). Children under 6 and BC students (with their BC ID) have free admission.
3 p.m. Volleyball vs. Christopher Newport University
Nininger Gym, free admission
7:30 p.m. Music Faculty Concert
Carter Center Concert Hall
A free evening of music presented by the Bridgewater College music faculty.
9 p.m. CEAT Presents: Family Feud
Main Dining Hall
Join us as we transform the "K" into the set of Family Feud. Free for students and guests. Come compete with your family or your BC family as we play Family Feud. Cash prize available for the winning team.
Sunday, September 17
10 a.m. – 2 p.m. Brunch
KCC Main Dining Hall
Enjoy brunch in our main dining hall. The cost is $12 at the door for guests. No charge for BC students with meal plans.
1 p.m. Women's Soccer vs. Salisbury University
Soccer Field, free admission
Legacy Families
Did you know BC legacy families are defined as families that include current BC students who have a parent or grandparent who attended BC? Are you a legacy family? Update your contact information by emailing alumnews@bridgewater.edu.
Family Weekend Specials
SMILEY'S ICE CREAM
205 Don Litten Parkway, Bridgewater
Pick up your Family Weekend coupon to receive 10% off. Available on Friday from the Office of Student Life in the Kline Campus Center before 4:30 p.m. or on Saturday between 9 a.m. and 1 p.m. at the Family Weekend Information Tent.
Available September 15-17

MAGNOLIA'S TACOS
418 N. Main St., Bridgewater
Show your BC ID to receive 10% off for Family Weekend.
Available September 15-17

NEW YORK FLYING PIZZA
415 N. Main. St., Bridgewater
Show your BC ID to receive 10% off for Family Weekend.
Available September 15-17

THE CRACKED PILLAR
403 N. Main St., Bridgewater
Show your BC ID for a free order of pretzels for your party with a purchase.
Available September 16

MINI GOLF AT SANDY BOTTOM PARK
600-650 E. College St., Bridgewater
Students, show your BC ID to receive a free round of mini golf.
Available September 15-17