Freshly made food daily
With a busy schedule of classes, sports, community service and campus activities, you'll have enough on your mind. So the last thing you need is to worry about what you're going to eat.
Whether it's a relaxing dinner with friends, a breakfast on the way to an early morning class or a snack, you'll find just what you're craving at Bridgewater Dining Services. We partner with Parkhurst Dining, an award-winning food service management company, to provide a wide selection of delicious, fresh and healthy foods to keep your body healthy and your mind sharp.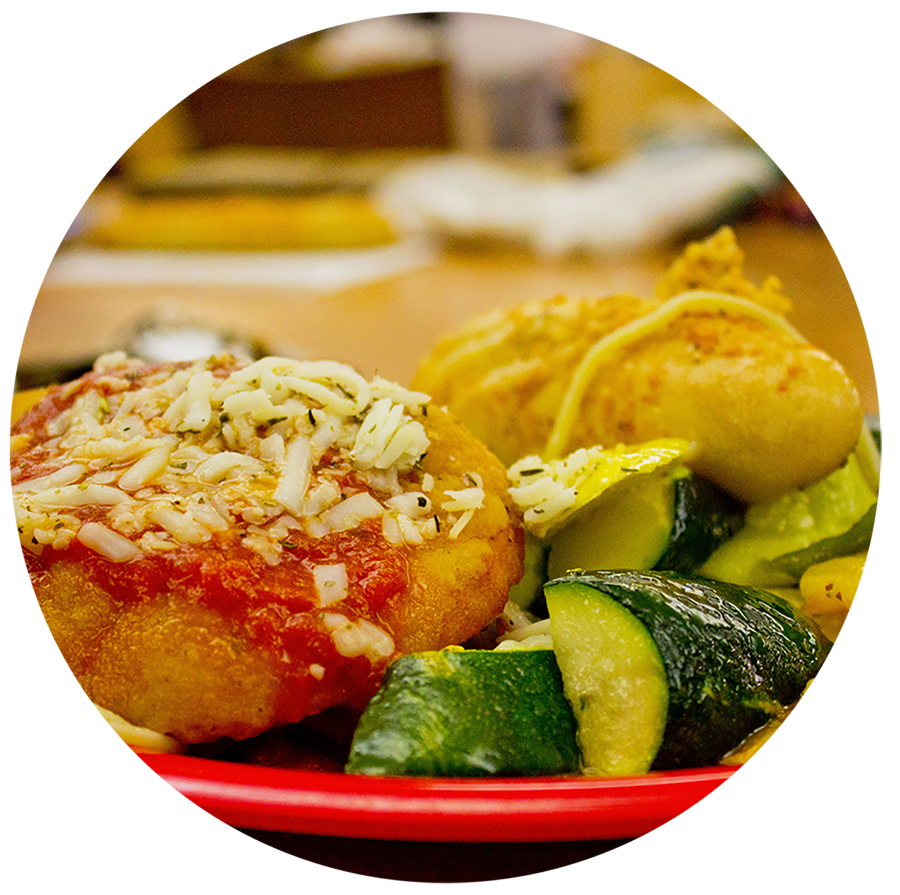 Take a look at some of our gold standards:
Fresh, hand-cut vegetables every day
Pizza dough made from scratch
Real mashed potatoes
Fresh (never frozen) hamburgers
Daily vegetarian and vegan options
No microwave cooking
Hand-breaded poultry, fish and beef
Locally sourced foods and produce when possible
Locations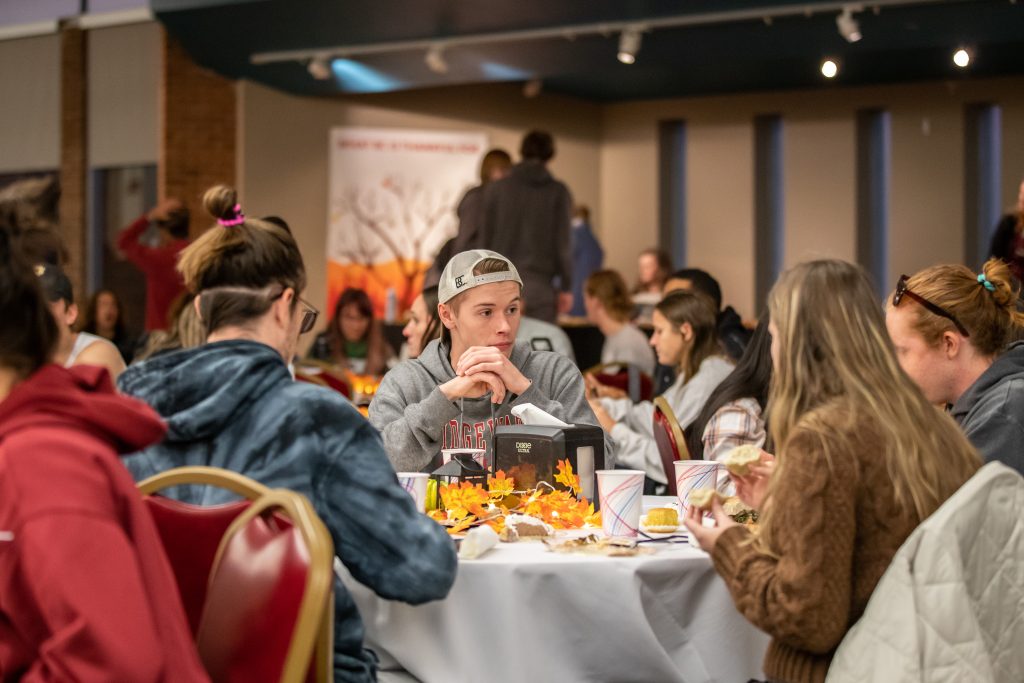 The Kline Campus Center (KCC) main dining hall offers a casual atmosphere where you can gather with friends around small, friendly tables, with restaurant-style seating, booths or counters with stools. Feel free to come and go as many times as you want when the dining hall is open.
Hours:
Monday-Friday
7 a.m.-2:30 p.m.
5 p.m.-10 p.m.
Saturday-Sunday
10 a.m.-2 p.m.
5 p.m.-10 p.m.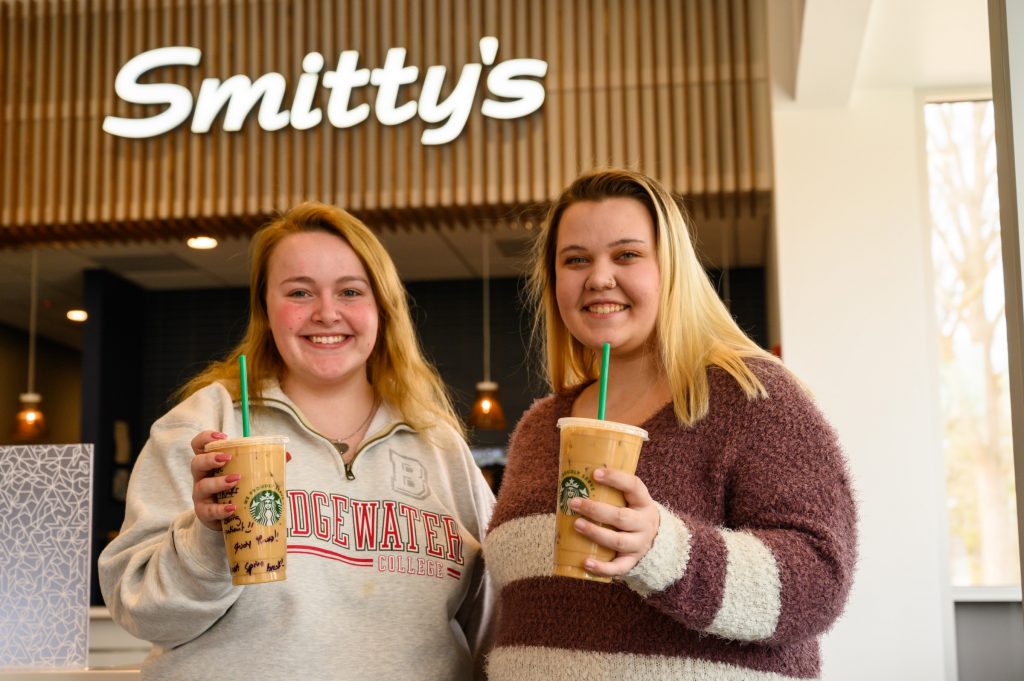 Stop by Smitty's in the Forrer Learning Commons for a satisfying Starbucks coffee, latte or Frappuccino. For breakfast, you can enjoy one of our fresh baked pastries or a delicious breakfast sandwich. For lunch, try one of our favorite Signature Salads or Signature Sandwiches. If you want to relax, you'll enjoy sitting by the fireplace and catching up with friends.
Regular Academic Year Hours
Monday-Thursday: 7:45 a.m. – 10 p.m.
Friday: 7:45 a.m. – 8 p.m.
Saturday: 9:30 a.m. – 8 p.m.
Sunday: 12:30 p.m. – 10 p.m.
Meal Plans
We proudly serve fresh, made-from-scratch food and daily menus that focus on seasonal items and selections that change throughout the day. We also accommodate special dietary needs, including food allergies, vegan, vegetarian and gluten-free.
The Resident Dining Plan is included in your standard residential fees. All students living on campus are required to have this meal plan, which includes:
Unlimited access to the Kline Campus Center dining hall during the posted hours.
Three guest passes per semester.
$100 in on-campus dining and store credit per semester. This credit is only usable at Parkhurst operated locations which are the KCC Main Dining Hall, Smitty's and the Campus Store. This credit can also be used at the Main Dining Hall to purchase a $5 reusable to-go container, which can be used at all available meal periods, even on the weekends. This credit must be used in the same academic year it was given.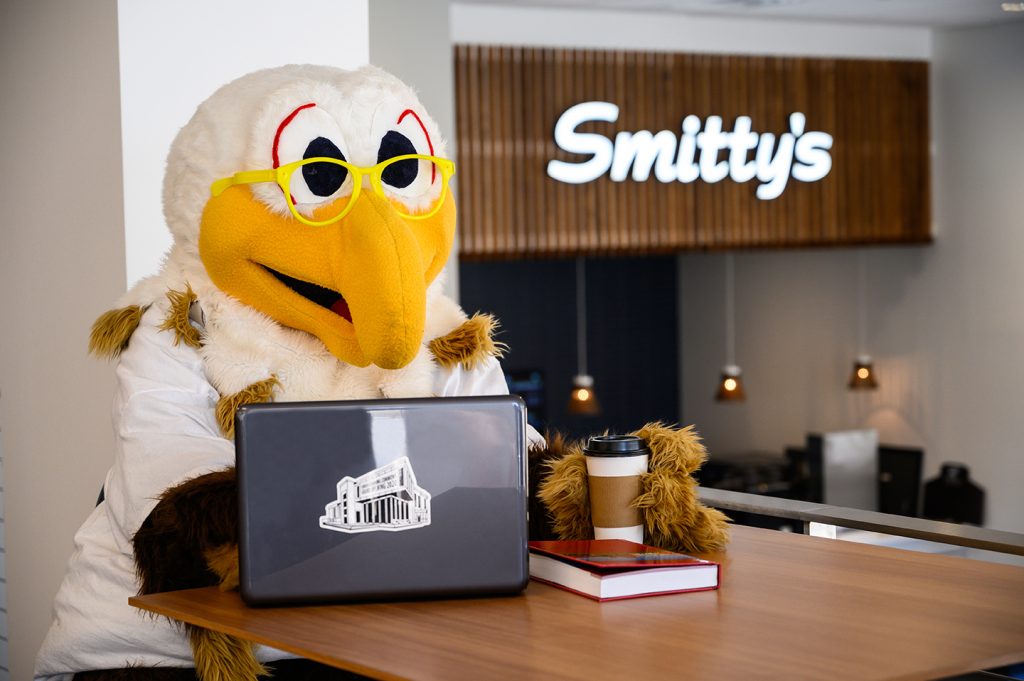 BC Bucks
You can spend BC Bucks by swiping your student ID card for payment. They're easy to reload and easy to use! You can add additional funds to BC Bucks at anytime by logging in.
You can load BC Bucks in addition to your $100/semester Dining Dollars (if you're a residential student with the dining plan) to your I.D. card by logging in to get.cbord.com/bridgewater with your BC username and password or search GET in your app store. You can even send an email to someone close to you making it easy for them to add funds to your account.
When paying with BC Bucks, you will receive 10% off your total purchase at Smitty's Cafe in the Forrer Learning Commons. Use the BC Bucks you've added to purchase clothing, supplies and snacks at the Campus Store, and be on the lookout for special promotions throughout the year to receive in-store discounts using your BC Bucks funds. BC Bucks can also be used at Campus Mail and Print Services. An algorithm will make sure your $100/semester BC Bucks Dining Dollars are utilized first at the food venues so that your additional BC Bucks are saved for other choices you wish to make.
Load funds to BC Bucks to purchase individual meals if you are a commuter without a meal plan. You can avoid the wait to process a credit card transaction. The price of each meal purchased will be deducted at the checking station.
Student-funded BC Bucks can be used to order from your favorite local restaurants on Grubhub. And with Grubhub+ Student, you can get unlimited free delivery until graduation.
Just follow these simple steps:
Download the Grubhub app to your phone
Create your account
Tap Account > Campus Dining
Find Bridgewater College > Add your campus card
Follow the prompts to activate your free Grubhub+ Student membership (no payment required)
Order from anywhere that accepts Grubhub.
Student-funded BC Bucks are refundable to students at the close of their time at Bridgewater College. This does not include your $100 in Dining Dollars per semester.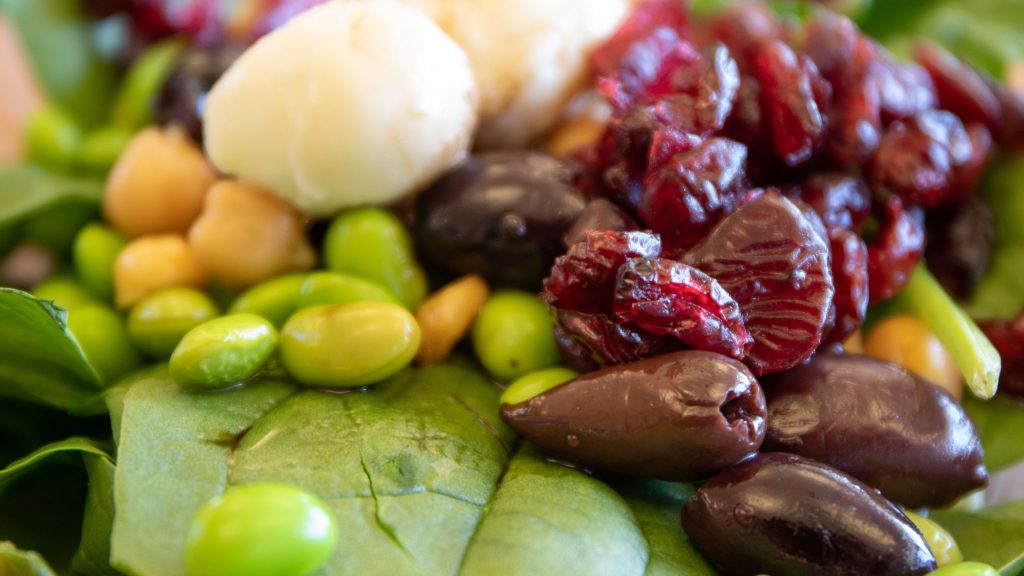 Allergies and Special Diets
If you have special dietary needs, we are happy to offer delicious options that meet your needs. We can accommodate all food allergies, as well as vegan, vegetarian and gluten-free. Contact General Manager, Adrian Taylor to discuss how we can help you.
Nutrition & Wellness
Keeping your body and mind healthy starts with nutritious food choices. Our food is flavorful, nutritious and prepared from scratch using only the freshest and highest-quality ingredients. Raw and cooked vegetables (including organic when possible). At least five fruits daily. Beans, nuts and seeds. Whole grains. Real turkey dinners—not processed.
Every day, you'll find a variety of menu items to satisfy your dietary needs and preferences. We incorporate nutritionally balanced food selections into our menu, so you'll become accustomed to selecting healthier foods without even realizing it.
You'll enjoy our made-from-scratch menu selections, prepared by our talented chefs and bakers. Here's a sampling of our culinary gold standards:
Burgers hand-pressed and made with fresh ground beef
Soups made from fresh stock
Homemade breads, pastries and muffins
Fresh-cut French fries made from local potatoes, when available
Fresh meats roasted in our kitchen
Pasta dishes with homemade sauces
Exhibition-style cooking, with foods prepared to order right in front of you
Global cuisine prepared authentically with raw ingredients and cooking techniques
Local & Sustainable Dining
We love our planet. That's why we're greening our dining operations and food choices. Our commitment to sustainable food service and environmentally friendly dining operations shows in many ways.
Compostable containers for the "On the Go!" program
Spent fryer oil converted to bio-diesel fuel
Napkins made from recycled paper
Trayless dining in the KCC Dining Hall
Locally purchased and produced food
Green catering practices
We know where our food comes from. We get more than 20 percent of our food through FarmSource, an initiative to find and partner with some of the finest local growers and producers. Most of our farmers are within 125 miles of campus.
We personally meet our farmers, food production owners and artisans. We tour their farms and facilities. And we hand-select the harvest in the field. We purchase milk from dairies that do not increase their cow's milk production with hormones. Our fish comes from sustainable fisheries. We prepare food with canola oil containing no trans-fats.
You're getting only natural, fresh food that's in season when available. Fresher food means more nutrients for you.