Know that you belong
From the day you move into your residence hall, you'll feel at home. From hanging out with your roommate, studying with a group of friends, to sharing opinions in late-night debates. There are so many opportunities to grow socially, intellectually and spiritually!
Grow socially
Students live on campus (with limited exceptions). You'll find support from our professional staff and student resident advisors (RAs) who oversee the residential areas. You will feel safe and comfortable in our inviting and close-knit community.
Personalized space
Choose the living arrangement that's best for you. We offer coed, single-gender, gender inclusive, or honors housing. We have residence halls, suites, and apartments. Each has a distinct character and atmosphere.
Each room is furnished with
Extra-long, twin-sized beds (mattress size 36″x80″). Beds can be bunked in some halls.
Desks and chairs
Closet or wardrobe
Chest of drawers
Dresser with mirror
Venetian blinds
Overhead light
Wireless internet access
Smoke detector
Storage space (limited)
Recycle bin
Some students wish to loft their beds to give more floor space in the room. Most lofts purchased from reputable furniture companies will meet the College's standards. However, if you are in doubt or are thinking of constructing your own, the following regulations must be followed to ensure that lofts are safe and in compliance with safety and fire codes:
Your loft should be constructed from non-pressure-treated wood. (Pressure-treated wood is designed for outdoor use only and can create serious health hazards in an enclosed environment.)
Lofts must be free standing and self-supported, which means they may not be attached to the wall, floor or ceiling or supported by any College furniture.
The sleeping surface (top of the mattress) can be no higher than 6 feet.
Lofts should be no more than 40 inches wide and 84 inches long. (Please note that the College-provided mattress is 36"x80".)
Lofts may not obstruct the functioning of windows or interfere with maintenance or access to any part of the room for routine maintenance.
Lofts may not be used in conjunction with the College-provided bed frame. Students are responsible for storage of the College bed frame.
Lofts should have means of safe access (i.e. ladder).
Electrical wiring, fixtures or appliances may not be attached or incorporated into the sleeping surface.
Occupants of rooms where a loft is located acknowledge that the College is not responsible for any accident, injury or damage to the occupants of the room, guest or personal property as a result of construction, design, installation or presence of the loft. It is strongly suggested that before building/designing your own loft, you try out the College-provided furniture first and then decide if you want a loft. If you decide to build your loft ahead of time, please be prepared to make adjustments to the loft upon your arrival to campus.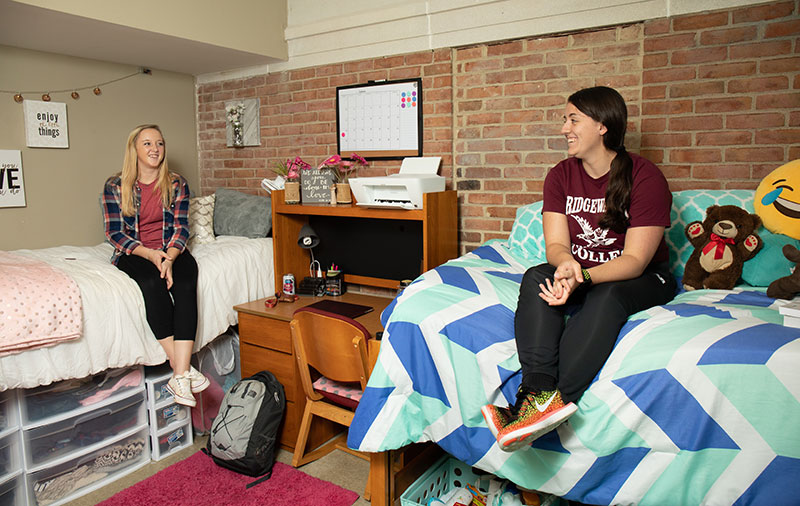 Each residence hall or apartment has
Laundry rooms with coin-free washers and dryers
Vending machines (except for Stone Village)
Recreation lounges (except for Stone Village)
Study lounges (except for Stone Village)
Heating and air conditioning
Kitchens
Bathrooms
Single, double, triple and/or quad rooms (Single rooms are reserved for upperclass students and those with special housing needs.)
All residential buildings are air conditioned. In Strickler Apartments and the Cottages, window air conditioning units are provided only in common areas. Students with a diagnosed medical condition requiring a personal air conditioner must complete the Housing Accommodation Request Form. These can be retrieved by emailing Denise Miller directly (dmiller2@bridgewater.edu). These forms include information from the student's doctor and are required before a student's arrival on campus.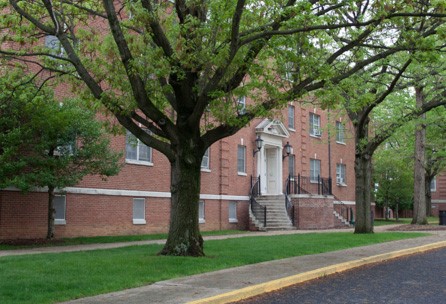 Daleville Hall
Built in 1963
Average room size: 16'x12′
Co-ed, houses 106 first-year students
Suite-style bathrooms
1 study lounge
1 TV lounge
1 kitchen per floor
Air-conditioned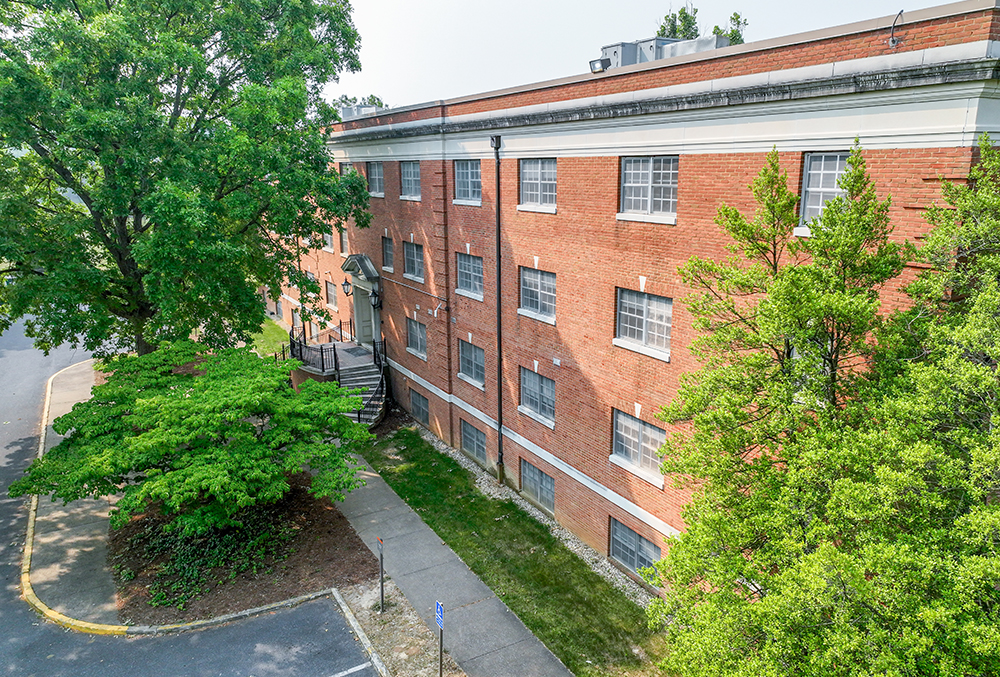 Dillon Hall
Built in 1966
Average room size: 17'x10′
Co-ed, houses 178 first-year students
Community-style bathrooms
1 study lounge
1 TV lounge
1 kitchen
Air-conditioned
Geisert Hall
Built in 1990
Average room size: 11'x15′
Coed, houses 173 first-year students
Community-style and private hall bathrooms
1 study lounge in each section
2 TV lounges
1 kitchen in each section
Air-conditioned
Handicapped-accessible on the first floor
See our upperclass housing >
| Important Dates | Stage of the Process |
| --- | --- |
| March 24, 2023 at 12 p.m. | Housing Application Opens (Phase 1) |
| May 15, 2023 at 12 p.m. | Roommate Selection Opens (Phase 2) |
| June 23, 2023 at 12 p.m. | Housing Application Closes |
| Week of July 9, 2023 | Notification of Housing Placement |
Housing applications open at noon on March 24, 2023 and close June 23, 2023. Please remember that if you do not complete your Housing Application by June 23th you are not guaranteed your preference in housing at Bridgewater College for Fall 2023.
After you pay your deposit and receive your Bridgewater login and password, you will be able to log into the Housing PortalX website.
It is important that the student (not the parent or any other individual) complete this information as thoroughly and honestly as possible to ensure the best possible roommate match and housing assignment. After you have completed Phase 1, you should receive a confirmation email at your Bridgewater email account indicating that your Housing Application is complete. If you do not receive this email, your application has not been completed. Please log back into PortalX to complete your application.
Beginning on May 15, 2023, all students who completed their Housing Application will have access to the Roommate Request page. This will allow you to request one or more roommates for next year. This step is NOT required to complete housing.
All Roommate Requests must be mutual, meaning that if you request a roommate(s), then they need to request you as well. We do have a limited number of triple and quad rooms, so you may choose more than one roommate if you wish. Please communicate with your roommates before arriving on campus to ensure the best match has been made and that the move-in process will be as smooth as possible.
All new students will be notified of their housing/room assignment the week of July 9, 2023. All room assignments will be completed by the Office of Residence Life. We will do our best to pair requested roommates together and take your preference of residence halls into consideration. Please keep in mind that all incoming students will be housed in residence halls depending on their incoming status (ex. first-year, transfer, etc.). We will follow your request and preferences as best we can, but there are limits to how many students can reside in each hall.
---
Off Campus Living for Commuter Students
Bridgewater is a residential college, so most of our students live on campus. That's because we believe that students who live, study, work and play together on campus make connections that extend learning beyond the classroom. That's an important part of a liberal arts education.
We think it will be rewarding and fun for you to experience living in a residence hall or apartment on campus. But we understand that sometimes there are circumstances that make it more desirable or necessary to live off campus.
You may live off campus if you have a letter of support from your parent or legal guardian and meet one of these conditions:
You live in Augusta, Highland, Page, Rockingham or Shenandoah County with your parents or legal guardians. The registrar's office will verify this address and bill you for on-campus housing costs if you are found to be living somewhere else.
You are at least 23 years old. The registrar's office will verify your age.
You are a current or former member of the armed forces. Please provide a copy of your service record or discharge papers with the application.
You are married or you are a custodial parent. Please provide a copy of your marriage license or completed tax forms.
You are enrolled as a part-time student (taking fewer than 12 credit hours per semester).
You are a fifth-year senior who has lived on campus for eight semesters at Bridgewater College (or the equivalent with transfer credits).
If you have a physical or mental health disability, you may request a medical exception for severe conditions that may impact your living on campus. You may qualify for special on-campus accommodations or be given an exemption to live off campus. Please contact the Director of Academic Support and Disability Services for more information or to access the forms.
You may access the request to live off campus form from MyBC under Off Campus Housing Application.
You are strongly discouraged from signing a lease for an off-campus rental property until you have received written approval from the Director of Residential and Community Life or the housing accommodation review board. If you have not been approved to live off campus and sign a lease prematurely, you will be responsible for paying on-campus room and board fees, as well as your off-campus rent.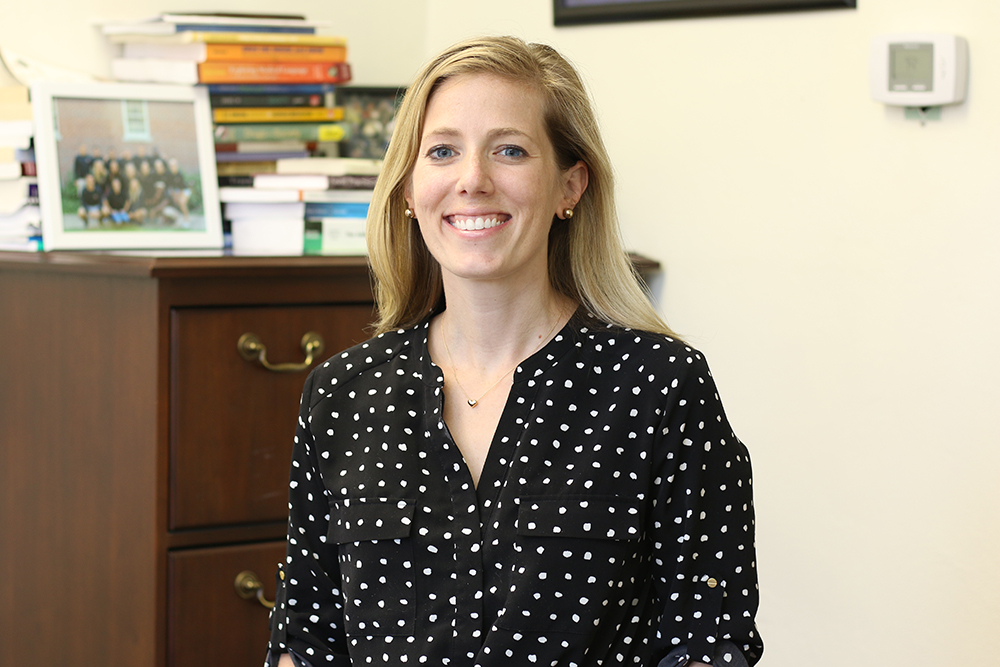 Liz Howley
Associate Vice President for Student Life
540-828-5356
ehowley@bridgewater.edu
As Associate Vice President for Student Life, Liz has oversight for Student Conduct, Residence Life and Health and Wellness. Originally from Morgantown, W.V., she earned her B.S. and M.S. in public health from James Madison University. Outside of work, Liz stays busy with community work and her family.
Sean McNalley

Director of Residential Life and Community Standards
540-828-8051
smcnalley@bridgewater.edu

Sean joined Bridgewater College in 2023 as the Director of Residential Life and Community Standards. This is a return to Virginia, as Sean originally graduated from the University of Virginia's College at Wise ('03) with a degree in history and minor in psychology and then attended Appalachian State University in Boone, NC for his master's degree in College Student Development/Student Affairs ('05). Throughout his career, Sean has worked at schools in Illinois, North Carolina, Maryland, Pennsylvania and Massachusetts. When not at work, Sean spends time with his wife and two children, listening to music and playing video games.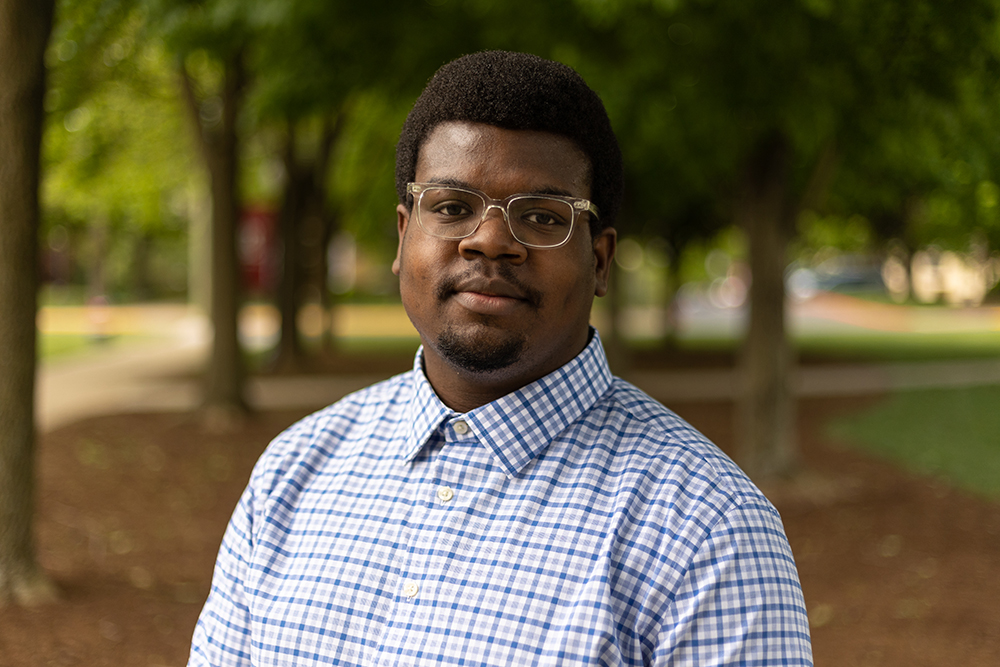 Keon Nesmith

Assistant Director of Student Development
540-828-8037
knesmith2@bridgewater.edu
Keon, a two-time alumnus of Bridgewater College, joined the Student Life department in July 2020, first as an Area Coordinator and now as the Assistant Director for Student Development. He oversees the education and training of our Resident Advisors (RAs), including their development within the campus-wide curriculum. In his free time, Keon enjoys spending time with family, landscaping and antique shopping.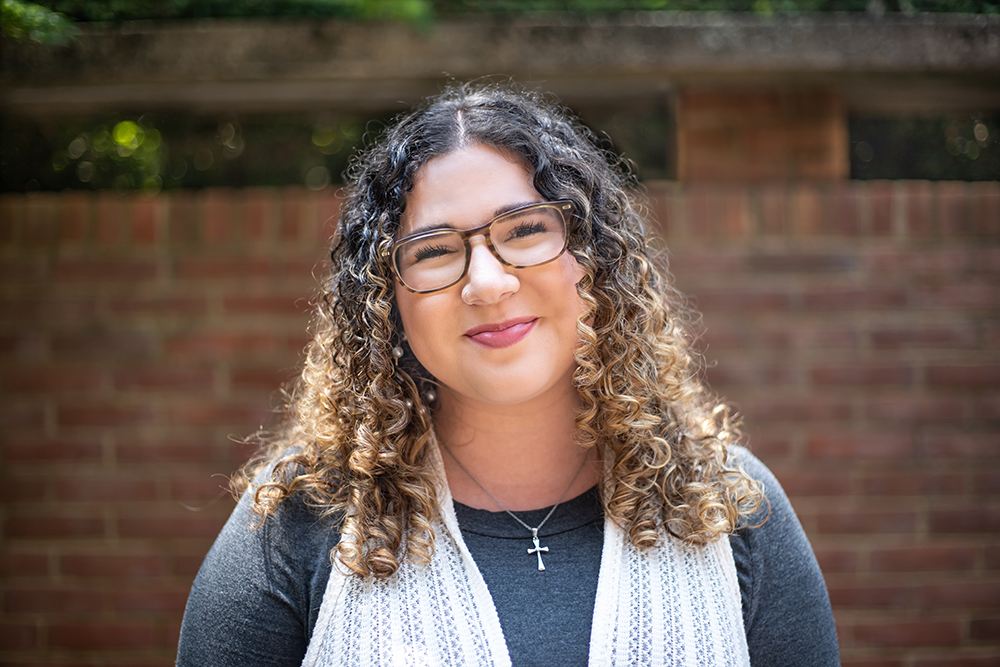 Stephanie Kauffman

Coordinator of Housing Operations
540-828-5685
skauffman@bridgewater.edu
Stephanie serves as the Coordinator of Housing Operations for Residence Life at BC. She recently graduated from Mississippi State University with a M.S. in Educational Leadership with a focus in Student Affairs, while working as a Residence Director for two years. Prior to receiving her M.S. she received her bachelor's degree from Mississippi State University and an associate's degree from East Mississippi Community College. Outside of work, she enjoys attending concerts and sporting events, reading and hiking.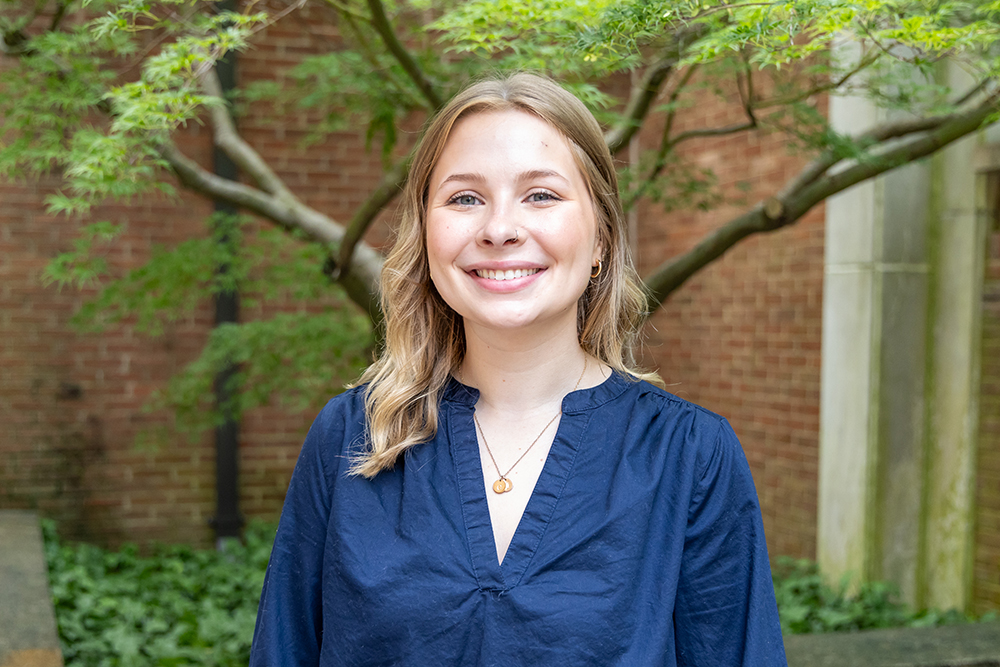 Maggie Demasi
Area Coordinator
540-828-8038
mdemasi2@bridgewater.edu
Maggie joined BC in 2023 as an Area Coordinator (AC) for Wright and Heritage.  As an AC, she supervises a group of student Resident Advisors (RAs), and helps create a sense of connection between the student experience and college experience as a whole. She earned her B.A. from Randolph-Macon College, where she served as an RA for three years. Outside of BC, she enjoys spending time with her family, playing volleyball, reading, and playing with her dog.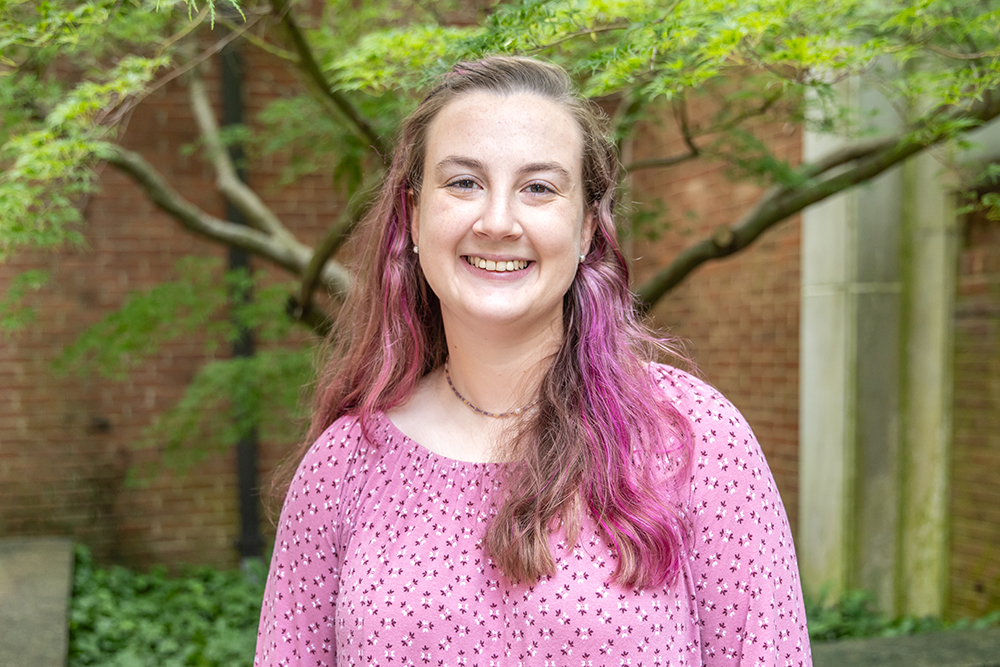 Jessika Ross
Area Coordinator
540-828-8040
jross2@bridgewater.edu
Jessika serves as an Area Coordinator (AC) for 2nd Street, Crimson Inn, Stone Village, Towers and Blue Ridge. As an AC, she supervises a group of student Resident Advisors (RAs), and helps create a sense of connection between the student experience and college experience as a whole. She earned her B.S. in Family and Consumer Sciences from Bridgewater College in 2020. Outside of work Jessika enjoys cycling, being creative and spending time with family and her cat.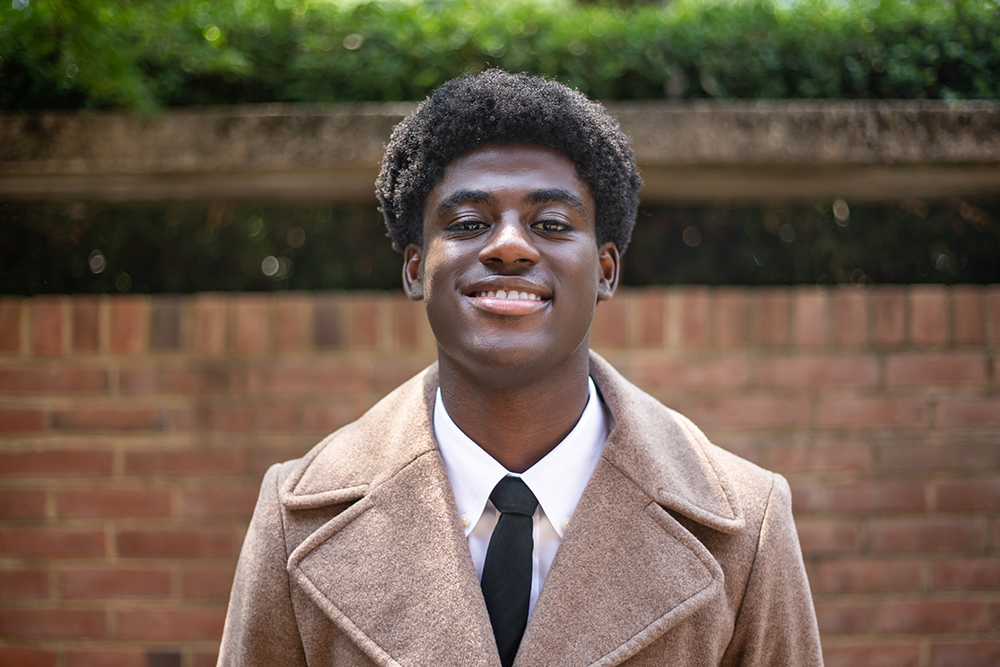 James Yeboah
Area Coordinator
540-828-8039
jyeboah2@bridgewater.edu
James serves as an Area Coordinator (AC) for  Dillon, Daleville and Geisert. He graduated from Bridgewater College in 2023 with a Bachelor of Science in Biology. During his undergraduate career, he served as an RA for a year, while finishing his junior and senior year as an SRA. In his free time, James enjoys spending time with family, playing soccer and working out.