An $8.5 million renovation project will reshape Bowman Hall, one of Bridgewater College's most important academic buildings, by creating state-of-the-art classrooms and dynamic engaged learning spaces. The renovation highlights the College's ongoing commitment to the importance of place—ensuring every building on campus meets the needs not just of today's learners but those of generations of students to come. The project comes just three years after the College unveiled the John Kenny Forrer Learning Commons, a transformative $13.2 million renovation and expansion of the former library into an academic hub that fosters collaborative learning and creative connections.
The Bowman Hall renovation, starting at the end of the spring 2023 semester, will transform every classroom, office space and teaching lab. Modern classrooms will house flexible furnishings and upgraded technology to support a full range of teaching styles and engaged learning. Collaborative work will be facilitated with group study spaces and advising suites like the modern learning spaces in the Forrer Learning Commons. Renovated teaching labs will strengthen the undergraduate research experience. And advising suites that combine faculty offices with integratedstudy spaces will enhance one of the hallmarks of a Bridgewater education: deep connections among students and faculty that lead to long-term student success.
The College is committed to continually evaluating student and faculty needs and offering the very best opportunities as it has upgraded classrooms in buildings across campus, including Flory Hall, Nininger Hall and the McKinney Center for Science and Mathematics, with the latest technology and flexible furnishings to adapt to enhance all learning modalities.
"We are a community that is serious about offering academic spaces that are flexible enough to give students a place to explore and extend their education in new ways. Classrooms in buildings across campus have been reimagined to layer together technology and physical design to create spaces that can transform with trends in higher education and support our students in the ways they learn best," said Vice President for Information Technology and Chief Information Officer Kristy Kane Rhea. "We continually assess space and technology needs campus-wide and funnel resources into providing spaces for our faculty to create the optimal learning environment for our students."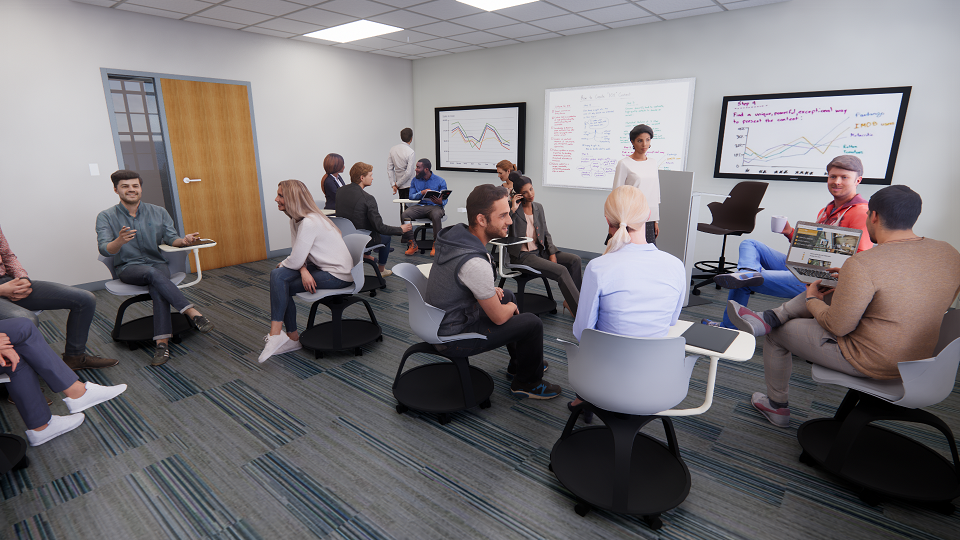 Home to seven undergraduate programs (business administration, digital media arts, economics, English, professional writing, psychology and sociology) and three graduate programs (master of science in human resource management, master of science in psychology–mental health professions and master of arts in digital media strategy), nearly every student takes at least one class in Bowman Hall during their time at Bridgewater—and many students take most of their classes every year in the building.
The renovation will be completed in phases, starting on the ground level and first floor this summer, and finishing with the second and third floors in the summer of 2024. Target completion date for the project is fall 2024.
This project is made possible thanks to the generous support of many Bridgewater College donors, including the late Dr. Garner H. Downey '47 and his late wife, Mae Frances, who made an estate gift that at nearly $2 million is the largest single gift secured to date in support of the renovation.
"We are grateful to Dr. and Mrs. Downey for their many years of support and making the ultimate gift by including Bridgewater College in their estate plans," said Interim Vice President for Institutional Advancement Meg Flory Riner. "Such gifts have a transformational impact on the College."
Bowman Hall opened its doors in 1953 and has welcomed thousands of students and faculty members in its 70 years.
"Bowman Hall is an iconic classroom building on campus and has played a central role in the education of generations of BC students," said the College's president, Dr. David Bushman. "This renovation ensures that Bridgewater will remain at the forefront of teaching excellence and that our students and faculty will have the very best opportunities for transformative teaching and learning."
Media Contact:
Jessica Luck
Editor and Director of Media Relations
jluck@bridgewater.edu
(540) 828-5720