At just shy of 10 feet, the California condor has the largest wingspan of any land bird in North America. That's almost twice the length of Jessy Wilson '19, who is dedicated to saving these majestic birds that were on the brink of extinction in the late 1980s when only 22 individuals remained alive. Wilson is part of a team of field biologists who work tirelessly to ensure the future of this raptor, which now numbers over 400 in the wild and in captive breeding facilities.
Wilson entered Bridgewater College as a biology major thinking veterinary school would be the logical next step due to her love of animals. But as she talked with people in the field, she became uncertain about her career choice. Two classes helped steer her in a new direction: an ornithology class with Professor of Biology and Department Chair Dr. Robyn Puffenbarger and a field biology course with Associate Professor of Environmental Science Dr. Tim Kreps. She discovered a "deep fascination with birds and field biology" and learned there was a profession dedicated to not only studying birds and their habitats but also designing methods to protect vulnerable species and their landscapes.
"That's when it clicked for me—I knew what was missing," Wilson says. "Changing that focus was the easiest decision I made in college."
A research project with Associate Professor of Biology and Environmental Science Dr. Tamara Johnstone-Yellin and a semester at the Smithsonian-Mason School of Conservation further cemented Wilson's professional goal to be a field biologist. She also added a second major in environmental science.
"As I was trying to parse out my career path, I learned—with the support of my professors—that there's not a right way forward and not one way to do things to get where you want to be," Wilson says. "It just comes down to being open and being ready to take opportunities as they come."
Since graduating, Wilson has traversed North America with stops in the Florida Everglades to work with endangered snail kite birds, the island of Bon Portage in Nova Scotia, Canada, to band and monitor songbirds during migration and Ventura, Calif., to work with the condor recovery program. This fall, Wilson will begin a master's program to study raptor biology—the only graduate program of its kind in the U.S.—at Boise State University. In addition, she has been awarded a National Science Foundation Graduate Research Fellowship, which she'll use in research focused on the impact of forest fires and climate change on the Northern goshawk, whose population has been declining in the West. She'll study habitat selection and other factors contributing to population dynamics, including forest management options to help this bird of prey retain breeding territories.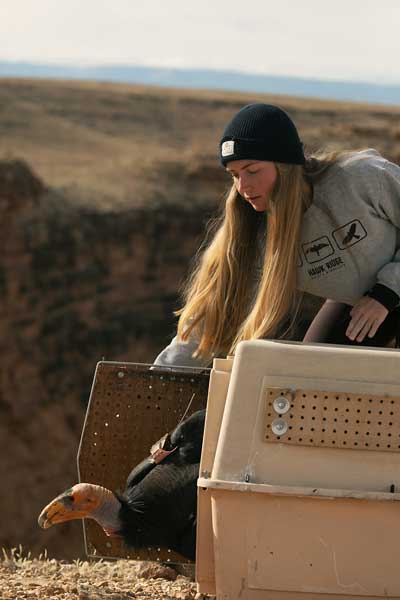 "Raptors are predators in their respective ecosystems," Wilson says. "You can learn a lot about how well an ecosystem is doing based on how well the top predators are doing."
She currently works as a condor program biologist for The Peregrine Fund, which studies the condor population in northern Arizona and southern Utah. Each day is different, and the job revolves around monitoring breeding pairs and active nests, as well as releasing juveniles into the wild as part of a captive breeding program. After graduate school she hopes to become a full-time research biologist with a nonprofit dedicated to studying and helping raptors.
"It's the absolute best," Wilson says of her work. "Of course, it's exhausting and there are some real challenges to working in this field, but I couldn't see myself doing anything else."
By Jessica Luck