Four Bridgewater College students are making an impact on conservation efforts in the Commonwealth of Virginia. As part of their three-credit internship course with Associate Professor of Biology and Environmental Science Dr. Tamara Johnstone-Yellin, Alison Keister '23, Caroline Clem '24, Rachael Meyers '25 and Quinn McCann '23 spent the summer on local waterways, conducting angler surveys in a collaborative partnership with the Virginia Department of Wildlife Resources (DWR). The paid internship was made possible by a grant from Corteva AgriScience.
DWR District Fisheries Biologist Jason Hallacher reached out to Johnstone-Yellin earlier this year to partner with her students for the 2023 survey. The ongoing survey stems from a 1977 fish consumption advisory that warned anglers of potential mercury content in fish caught in the South River and the South Fork of the Shenandoah River. Since then, DWR has organized periodic surveys of anglers, conducted by water creel clerks, to collect data on knowledge of the fish consumption advisory, fish harvest, angling preferences and satisfaction of river users. The surveys, the last of which was completed in 2016, are conducted every few years. The next survey is slated for 2027.
The four students floated by kayak on various reaches of three to 10 miles of the South Fork of the Shenandoah and the South River. Working in pairs, they interviewed anglers, as well as recreational users including boaters, kayakers, swimmers and tubers. The survey consisted of 30 questions, and students had to be prepared to explain the value of the data they were collecting. The data on fishing catches helps with better managing hatcheries, and the data collected from recreational users helps determine the economic value of the rivers. Meyers, a junior biology major with a Spanish minor, conducted interviews in Spanish and also converted the survey into Spanish to help make a large portion of the community feel welcome on the water.
"Communication skills are the most valuable skill learned during these surveys," Hallacher says.
Clem, from Dayton, Va., has lived in the area her whole life and spent a lot of her childhood on the Shenandoah River. Her interest in science began at a young age, as she became curious about the natural world around her and how organisms interacted. As an environmental science major with a wildlife biology minor at BC, Clem discovered her passion for teasing apart the intricacies of macrosystems ecology and conservation efforts. Her classwork on wildlife and fish identification, as well as studying the North American Model of Wildlife Conservation, served her well during her internship.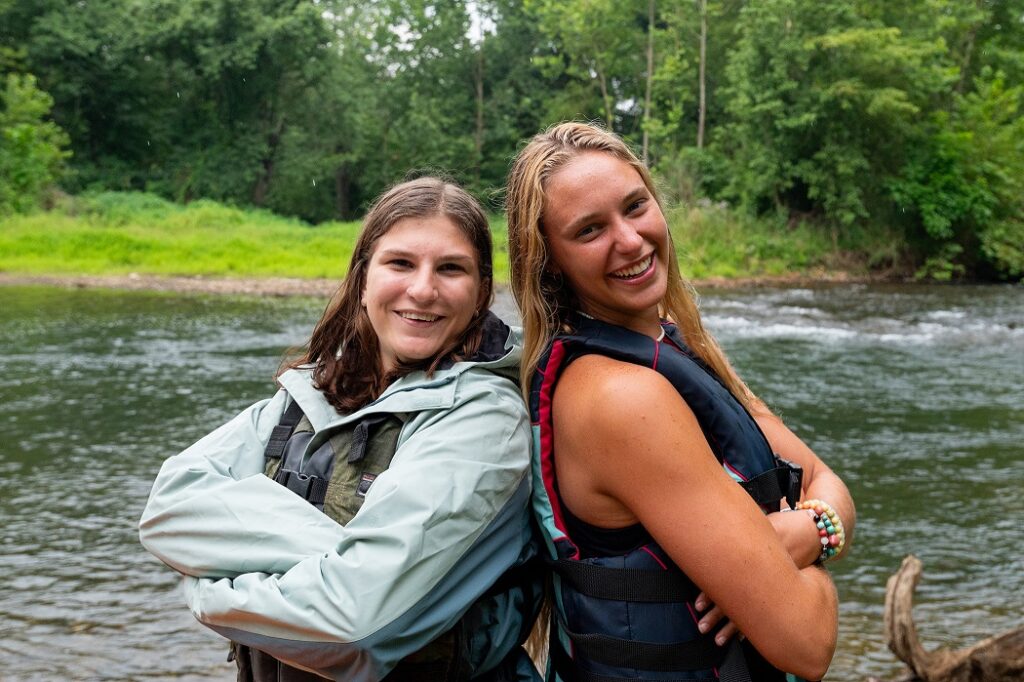 "All of the environmental science and biology professors at BC focus on facilitating your learning in a personal way," Clem says. "Each one brings a unique skillset to the department, and it's been a joy to get to know each one as I progress through college."
Through her summer field experience, Clem learned how to safely navigate and work in a river environment in a variety of weather conditions, how to work independently as well as with others and how to better communicate with members of the community regarding conservation issues. Johnstone-Yellin and Hallacher were available as needed to assist the students during the surveys.
"Communication skills are key to any job in the field of conservation because all wildlife is held in a trust by conservation officials for the community," Clem says. "We must work together with members of the public to determine what they want or need when it comes to this invaluable resource."
Since Johnstone-Yellin joined Bridgewater in 2012, the College has continued to grow its wildlife program, including adding a wildlife biology minor last spring and providing opportunities for real-world experiences including internships, field trips, laboratory work and more. The paid summer internship is another example of how Bridgewater is part of the movement within the wildlife profession to offer more equitable opportunities in a field that typically offers volunteer internships.
"I think there's a misconception when families are searching for the right college that you have to go to a large university to establish your future career," Johnstone-Yellin says. "We continue to grow as one of the few small liberal arts colleges in our peer group and in the surrounding states that has a wildlife biology program."
Each faculty member in the Department of Biology and Environmental Science teaches concepts from their specific disciplines as well as how to apply those concepts to novel situations—whether when working with wildlife, the environment or the public.
"It's not about memorizing facts. It's about using those facts to think critically in any situation," Johnstone-Yellin says. "When working in the environment, nothing is static—everything is dynamic. Being able to apply information to a changing world is critical."
— By Jessica Luck