Bridgewater Fair From 1880 to Now
When you become a part of the BC community, you become part of a history that goes all the way back to 1880. That's when a 26-year-old decided to start the Spring Creek Normal School and Collegiate Institute. Daniel Christian (D.C.) Flory opened the school on Sept. 6, 1880, with six students, including one woman. Bridgewater has always admitted women and was the first private liberal arts college in Virginia to do so.
In 1882, the College moved to Bridgewater, Virginia. It gave diplomas to its first graduates on June 18, 1886, and officially became Bridgewater College in July 1889, when it was chartered by the Commonwealth of Virginia to grant undergraduate degrees.
Ringing the Bell and the Echelon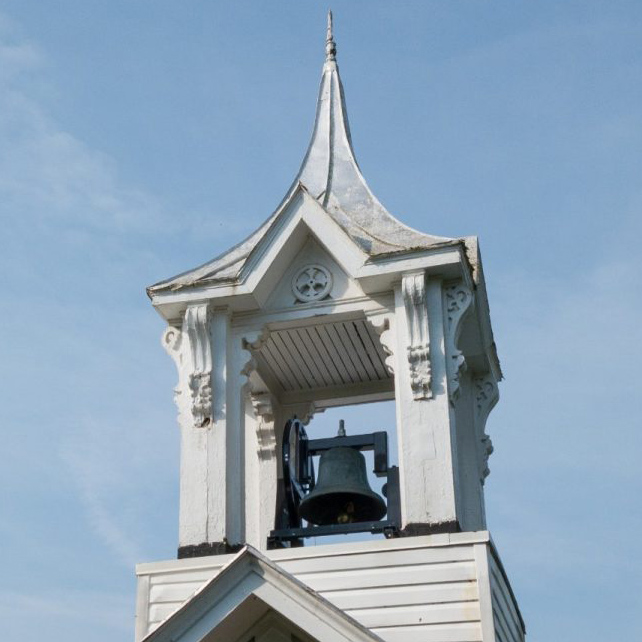 The oldest building on the current campus, Memorial Hall, opened in September 1890.
Ringing the Memorial Hall bell is a longstanding tradition at BC. If you're on an athletic team, you'll get the chance to ring it after a victory. When you hear the bell ring, it's a moment of celebration that the entire campus shares.
You'll walk through the Echelon of applauding faculty and staff after Opening Convocation as a first-year student. Accompanied by the ringing of the Memorial bell, the Echelon bookends your time at Bridgewater College. You'll walk through it again at Commencement when you've graduated. Walking through the Echelon the first time signifies your entrance into the Bridgewater College community, and when you walk through it again, you'll be embarking on the next chapter of your life, supported by the connections you've made at BC.
The College Song
Bridgewater's college song, also known as the alma mater, is "Bridgewater Fair," written by John Wayland, class of 1899. It is still sung on many special occasions. If you want to sing along, listen to this version, recorded virtually in 2020 with a range of music students, alumni and faculty.
Founder's Day
The observance of Founder's Day began in 1920 and is an annual celebration of BC's heritage, usually on the first Tuesday in April. The day was chosen to honor D.C. Flory's birthday, April 3, 1854.
Founder's Day marks the first time that seniors have the chance to process as a class, wearing their caps and gowns. Outstanding faculty, staff and students are honored with awards for their contributions to the College.
After the ceremony, you'll have the chance to participate in the annual Medallion Hunt. Hidden somewhere on campus is a wooden medallion, approximately eight inches in diameter, with the Bridgewater College seal. The winning student receives a cash prize!
Martin Luther King Jr. Day
Students, employees and the community are invited to participate in a community march and other activities honoring the legacy of Dr. Martin Luther King Jr. A service component is often incorporated into the day as Dr. King is remembered for his commitment to integrity, equality, service and community.
The Bridgewater Cup
As a first-year student, you'll have the opportunity to compete in the Bridgewater Cup with your fellow FILA-150 (Bridgewater's first-year seminar) classmates. The groups participate in Olympic-style competitions in a variety of team activities and games in hopes of winning the treasured BC Cup, which will be engraved with the winners' names. The winning group also gets to enjoy a meal with the President.
Holiday Traditions and SpringFest
College celebrations for Thanksgiving, Christmas and other winter holidays are always festive, and the week of exams means it's time for Finals Frenzy, featuring a late-night breakfast and the circulation of the Candy Cart!
Ernie's Egg Hunt is the signal that we are near Easter, with 300 eggs hidden around campus and a variety of fun prizes. And SpringFest is our end-of-the-year celebration that invites the campus community to come together for food, games and novelty events, promoting fun and relaxation for everyone!
History of Bridgewater College Presidents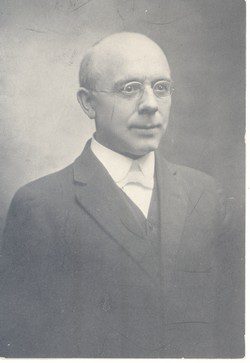 Walter B. Yount received the "Normal English" degree at the Brethren's Normal College (today's Juniata College) after three years' study. In 1882 he entered the University of Virginia, where he spent six years (1882-83, 1887-92) in the study of Greek, Latin, modern languages, mathematics, moral philosophy, natural philosophy and chemistry. Even after he was named president of Bridgewater College in 1895, he continued his formal education by taking courses by correspondence at the Illinois Wesleyan University, receiving the Ph.B. degree in 1903, and the M.A. in 1907.
From 1892 to 1895, Yount's title at Bridgewater was "Chairman of the Faculty;" beginning in 1895, it was "President." He played a manifold role in the life of the school, not only serving as a faculty member and president, but keeper of the accounts, buildings and grounds manager and recruiter. His leadership and example were important factors in saving the school from collapse during the first years of his administration, when it was heavily in debt and when its enrollment and support were down. He labored incessantly to develop "a sentiment for real education."
When he chose to retire in 1910, the board of trustees decided to offer the position to Dr. John S. Flory, the College's vice president and professor of English language and literature.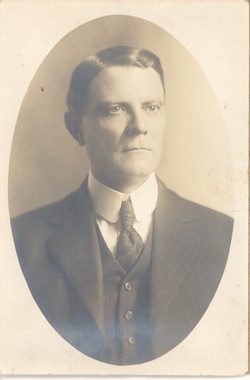 John S. Flory had been associated with Bridgewater College since September 1888 when he first entered it as a student. Since the autumn of 1894, except for the years 1902-05 when he was on leave of absence for graduate study at the University of Virginia, he served as a member of the College faculty. He held the B. Lit. degree from Mount Morris (Illinois) College, the B.A. (1902) and M.A. (1908) from Bridgewater College and the Ph.D. (1907) from the University of Virginia.
He had previously served as the College's acting president during the session of 1906-07, when President Yount was on a leave of absence, and as the school's vice president since 1905. In addition to the duties of president, he also performed those of an academic dean and faculty member, and he wrote most of the copy printed in the College's bulletins, which appeared as many as six times a year. He also did much of the work of a college registrar, an office not established until 1919.
During Flory's tenure, the College's trustees established the office of academic dean. Literary and debating societies flourished; religious organizations were formed and spiritual life abounded; sports for men and women increased; and the College expanded the number of its baccalaureate-degree courses by 50 percent. Students working for the B.A. degree—which had consisted of only about 15 percent when he took office—had reached 55 percent when he stepped down in 1919.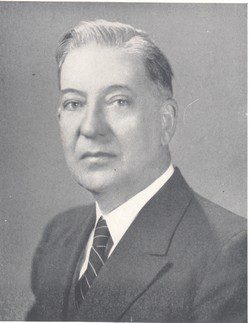 When President Flory announced in 1918 that he would retire from the presidency of the College the following year, he worked with a committee to seek out his eventual successor, Paul H. Bowman, a Bridgewater College professor of Biblical literature and theology.
Bowman was educated at Bridgewater in 1910, at Crozer Theological Seminary (1913) and the University of Pennsylvania (1913). He was the president of Blue Ridge College (1915-17) in New Windsor, Md., and professor of Biblical literature and sociology there until 1918. In August 1918 he became a faculty member at Bridgewater and, three months later, was elected president.
During his tenure, Bowman increased the amount of financial aid available to students; pioneered among Virginia Colleges "Freshman Week," in which incoming students had the opportunity to become acquainted with one another; strengthened the curriculum; increased the scope and importance of intercollegiate sports; increased the number of semester hours of courses it offered for the baccalaureate degree from 317 to 585; created the home economics department; established the school's library in Cole Hall; established "Founder's Day" activities; and participated in many local civic and philanthropic enterprises.
After an 11-month period during which Charles C. Wright served as acting president, the board of trustees offered the presidency of Bridgewater College to Warren D. Bowman. Bowman was educated at Bridgewater (B.A., 1920) and at the University of Chicago (M.A., 1922; Ph.D., 1930). He was an instructor at the State Teachers College in Farmville, Va., from 1923-30; head of the Department of Education and Psychology at Juniata College from 1930-37; and a teacher in the summer sessions at George Peabody College for Teachers, Emory University, the University of Virginia and Duke University.
Under Bowman's leadership at Bridgewater, a more vigorous, extensive and effective system of recruiting students was instituted and greater selectivity was exercised. More attention was given to counseling and guidance of students. Black students were admitted, beginning in 1953. Student scholarships and loans were increased considerably, and enrollment grew during his tenure from 494 to 655.
Other achievements during Bowman's presidency included the strengthening of the faculty—the salaries of faculty and administrative officials were more than doubled—and the expansion of the College's curriculum. The endowment fund was augmented by 60 percent; the physical plant was enlarged by the construction of a science hall, a library, a gymnasium, two dormitories and a third one nearly completed; and Bridgewater's land holdings increased by more than 40 acres.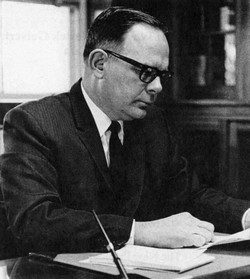 Wayne F. Geisert succeeded the retiring Warren D. Bowman as president of Bridgewater College on July 1, 1964. He was educated at McPherson College (B.A., 1994) and at Northwestern University (Ph.D., 1951). He was an instructor at Hamilton (Kansas) High School, instructor in economics and accounting at Kendall College, graduate assistant in money and banking at Northwestern University, associate professor of economics and business—later professor and department head—at Manchester College, and academic dean of McPherson College until his hiring by Bridgewater College.
At Bridgewater, Geisert presided over major building projects, the restructuring of the academic calendar and four fundraising campaigns. Enrollment also topped 1,000 for the first time during his presidency. The Kline Campus Center was built under Geisert's direction. Flory Hall, a renovation and construction project, merged two historic buildings—Wardo Hall and Founders Hall. Three residence halls were built during the Geisert administration. In 1990, one of them was named Geisert Hall in his honor.
During Geisert's presidency, three successful fundraising campaigns were completed and a fourth one launched. An early campaign raised $1.5 million, an $8 million effort was tied to the College's centennial in 1980, and an $18 million campaign was completed in 1991. The College announced a $60 million campaign in 1992 that was successfully completed by 2000, six years after Geisert left office.
Geisert announced in 1993 that he would retire the following year after 30 years as president of Bridgewater College. The presidential search committee reviewed some 80 applications before offering the job to Harrisonburg attorney Phillip C. Stone, a member of the board of trustees and 1965 alumnus of the College.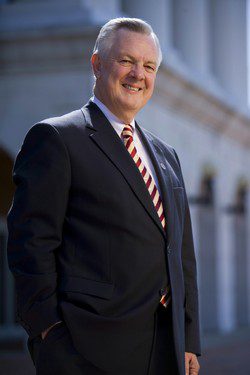 After graduating cum laude from Bridgewater College in 1965 with a B.A. in economics, Phillip Stone taught at Harrisonburg High School for a year before pursuing graduate studies at the University of Chicago School of Economics. He later attended the University of Virginia Law School and earned his J.D. in 1970. Stone was a practicing attorney for 24 years with the Harrisonburg, Va., firm of Wharton, Aldhizer and Weaver.
When Stone assumed office, enrollment stood at 882. By the time classes opened in August 1997, full-time undergraduate enrollment stood at 1,066—a 22 percent increase over the fall of 1994. The introduction and refinement of the Personal Development Portfolio program, the establishment of new scholarships, the hiring of top-notch faculty, improved technology, athletic successes, new facilities and recruitment efforts by Stone and the admissions department resulted in the goal of 1,200 students by 2000 being met—and exceeded. By the time Stone celebrated his 10th anniversary at Bridgewater in 2004, enrollment had increased 78 percent.
The McKinney Center for Science and Mathematics, the Funkhouser Center for Health and Wellness and the apartment-style Wampler Towers residence halls were all built during Stone's tenure. The former Bridgewater Church of the Brethren was purchased and renovated to become the Carter Center for Worship and Music, and the Bridgewater College Equestrian Center, a 75-acre equestrian center located in Weyers Cave, Va. was also added to the College's grounds.
Stone also oversaw the successful $40 million Every Student, One Commitment Campaign for Bridgewater College. After 16 years as president, Stone retired on June 30, 2010.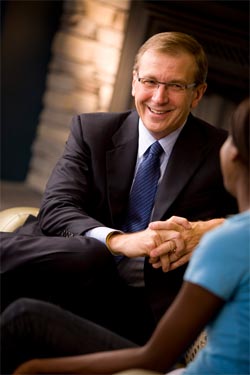 Following Stone's retirement, George Cornelius served as Bridgewater College's eighth president for nearly two years. He graduated from The Pennsylvania State University and earned his juris doctor degree, magna cum laude, from Penn State Dickinson School of Law.
He was a former partner at Eckert Seamans Cherin & Mellott, a national law firm headquartered in Pittsburgh, vice president and general counsel of ATOFINA (predecessor to Arkema, Inc.), and finally president and CEO of Arkema, Inc, the Americas division of a Paris-based, international chemical company.
He went on to serve as secretary of community and economic development for the commonwealth of Pennsylvania, and was responsible for all community and economic development policies, programs and projects for the commonwealth. Additionally, he collaborated with local governments, economic development agencies and colleges and universities on economic development projects.
After Cornelius' departure in 2012, Roy Ferguson, the College's executive vice president, served as interim president for nearly thirteen months.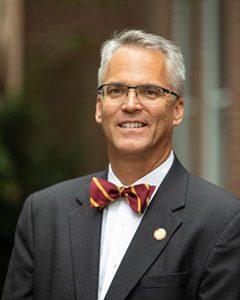 After a nationwide search, a presidential search committee selected David W. Bushman to be the ninth president of Bridgewater College. Bushman earned his bachelor of science in biology summa cum laude from Loyola College in Maryland. He graduated from the University of Maryland with both his master of science and doctorate in entomology. Upon completion of his Ph.D., Bushman worked for several years in private industry as a research biologist and research fellow. He later served in a variety of roles at Mount St. Mary's University in Emmitsburg, Md., including dean of academic services, director of assessment, chair of the department of science and associate professor of biology.
Bushman left Mount St. Mary's to serve as president of Lees-McRae College in Banner Elk, N.C. He later returned to Mount St. Mary's as the founding dean of the university's School of Natural Science and Mathematics.